Leiden University Career Zone


Video interview
Are you invited for a video job interview? Keep in mind that this requires a slightly different approach than an in-person job interview.
Various (Dutch) websites such as Intermediair, Monsterboard, Career Tiger and career coach Aaltje Vincent give all kinds of tips on how to be well prepared for your video interview. The Career Service has gathered all these tips and lists them here for you!
Different forms of video job applications
There are four different forms of video job applications:
You create a video pitch at the employer's request for a maximum of one minute in which you introduce yourself.
Instead of writing an application letter, you decide to create a video pitch. This is often a combination between an elevator pitch and a verbal application letter.
The employer invites you to answer some basic questions on camera.
A job interview takes place online and you have a video interview with the employer. We will discuss this in more detail on this page.
ONLINE JOB INTERVIEW
Preparation
It is completely normal to be (somewhat) nervous for any job interview! To ease your video interview discomfort and to take away as much stress as you can, make sure that you are well prepared and have tested the technique in advance. So, pay attention to the following aspects:
Familiarise yourself with the video platform used, ask for a manual or testing opportunities if necessary. Furthermore, practice and test the video platform with a friend.
Ask who will be present at the video interview.
Practice your video interview with a friend, just like what you would do for a 'normal' job interview. For example, use the STARR method and make a list of questions you want to ask your employer. During a video interview, you make your first impression via a computer screen and practicing is therefore really important! Also ask your friend for feedback on how you come across on a computer screen.
Technique
We can't repeat it often enough, but test the technique in advance! Several programmes are used during a video interview: Skype, Zoom, Microsoft Teams, Jitsi, FaceTime, WhatsApp, Talky, Google Duo, Google Hangouts, Google Teams, Cammio, Whereby of Pexip. You can use a laptop, smartphone or tablet and take into account the following aspects:
Check your internet speed. If your Wi-Fi connection is crummy, switching from Wi-Fi to a wired Ethernet connection may improve your Internet speed.
Close all programmes on your laptop or phone and make sure all notifications are turned off.
Make sure your device is fully charged or plug it into an outlet, to avoid a battery outage.
Light, camera and... Action!
Before you start the video interview, it is important that you pay attention to your posture, the light and the sound. How do you make sure you are representative on screen and that the sound is good?
Find a quiet, private place to do the video interview. Avoid background music, traffic noise and playing children.
Sit on a fixed chair (without wheels), this prevents you from bouncing in front of the camera.
Be on time. Make sure you are online a little earlier than scheduled.
Stick a picture of the person you are talking to or /post-it behind your webcam, that makes it easier to look someone in the eye.
Make sure your webcam cannot move: for example, do not take your laptop / tablet on your lap or in your hand, but place it on the table.
Maintaining good eye contact is crucial during any job interview, but it's especially important during video interviews. Your camera should be at eye level, because it is important that your face is centered. For example, place your laptop on a stack of books or put your phone on a tripod.
Ensure the light is good and avoid a shadow over your face, because it makes it difficult for the interviewer to see you. The best strategy is to sit opposite to a window. If your video interview is in the evening, you can brighten up your face by using a desk lamp.
Dress appropriately for a video interview, because employers still expect the traditional interview outfit. Also, certain clothing choices can be distracting onscreen. So, avoid bright contrasting colours, clothes and accessories with plaid or striped patterns.
Choose a neutral background that is free from distractions, some video tools also have the ability to blur the background. But also remember that your background tells something about you and is also a chance and should therefore suit you. Laundry baskets or walls with sockets may therefore not be the best option.
You may need to wear headphones if your computer has a bad speaker system. This avoids an annoying echo.
As an applicant, prepare for the following questions:

Supposedly you have a click/good chemistry with the interviewer(s) then wonder.. do you quit your job without meeting colleagues in the workplace?
What do you need to make a well-considered decision (for this position / employer)?
How would you like to receive feedback from this job interview? (e.g. e-mail / telephone / video call).

The video interview itself
You have prepared everything and the video interview can get started! Especially when it is the first time you have a video interview, feel free to mention that and tell the employer that you are excited or nervous. Furthermore, feel free to ask your questions during the interview as well, because it is important that it becomes a dialogue more than a questioning (if you feel the space and confidence to do so). It is important, because you should also be able to assess whether this position and organisation suit you. We will give you a few more tips!
Have your vacancy, CV, application letter and questions close at hand.
When entering (online) the video conference room, make direct eye contact, look into the lens and smile. This gives a good first impression. In a live situation, this would be the moment when you shake hands and look each other in the eye.
Thank the interviewer(s) for the online opportunity and indicate that you have also prepared questions yourself.
Indicate at the beginning of the interview that applying using video calling is new to you.
Change you viewing positions: from screen to lens and back: that works dynamically and is more realistic.
Share with the interviewer(s) when you are looking at your questionnaire; "I just take a look at my questionnaire".
Repeat the interviewer's question and mention that you think about it for a moment, this brings peace.
Also think of facial expressions, movement, energy. This may be slightly exaggerated, so that it comes across "on camera".
Be spontaneous. Do not be tempted to use a 'cheat sheet' on your table. Maybe use only some keywords and do not read out your answers.
Do not make notes on your computer, typing on the keyboard can be disturbing. Make notes with pen and paper.
Maintain "eye contact" by looking directly into the camera instead of at the screen or at your own photo/video.
Pay attention to your posture. Do not forget to nod and smile when it is appropriate. Also, making gestures can certainly be useful to reinforce your story.
Ask in advance what happens if the connection is broken. For example, who calls whom or will they send a message?
Finally, ask how the application procedure will proceed. When will you hear back and in what way?
Ask about the possibilities in terms of training; is this going to be completely online or also on location? By who? How long? How intensive? Etc.
Ask, as an applicant, about the possibilities for more information about the position, workplace, atmosphere, culture of the organization / team, etc. This information can be provided to you in the form of: written text, photos, videos, e-tour, online meeting with teammates, 1 -on-1 meeting on location. As an applicant you may have difficulty asking this, so introduce your question with the following sentence; "I want to make a well-considered choice for this career step, so I need a little more information / gain more feeling with/for…"
After the video job interview, check whether the connection has really been broken before talking to someone nearby about your job interview.
With all these tips, you can enter your video job interview as prepared as possible!
Workshops & events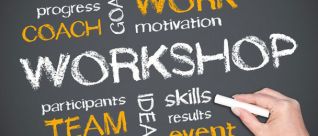 Creating a Video Resume
Creating a Video Resume