Leiden University Career Zone


Career orientation process
When you look at the career orientation process, you might think of this as something that only becomes important at the end of your studies. Or perhaps that it mainly has to do with looking for vacancies. However, the career orientation process consists of much more.
It is a process that consists of a number of stages in which you get to know yourself and the labour market better. Even if you only just started your studies, the career orientation process is interesting to delve into. If you pay close attention to the different stages, the transition to the labour market and finding a suitable job will eventually become easier.
The career orientation process consists of 7 stages: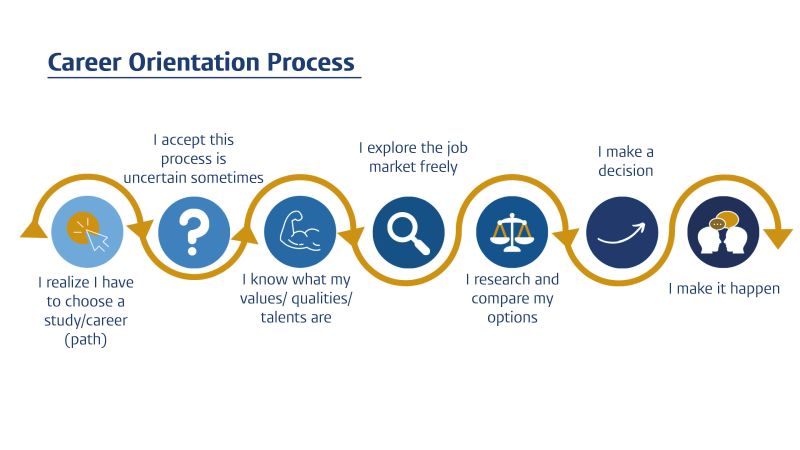 Stage 1: I realize that I have to / must choose a (career) job.
This seems obvious. Yet there are differences approaches to take in the start of your search quest. For example, think of someone who has aspirations for a certain job / niche area since high school and has done everything possible for this during his/her studies. The quest of this person will be different from that of someone who has mainly lived by the day and after graduation realizes that he / she does not yet have a good idea of what he / she wants to do in terms of work and finding a place in the labor market.

Stage 2: I accept that this is an uncertain process.
Think about this element of the process and come to realization that this applies to everyone. It is a process in which you are partly dependent on others (e.g. who does or does not accept you for a job), yet there are still so many possibilities that it sometimes baffles you. You can feel insecurities such as: Am I ready for this? Fellow students have a much more extensive CV! Or: I don't really know what I want! It is good to realize that this is part of the process. A rejection after a letter or conversation is something to learn from. Subsequently you can use that experience in your next step. Like others, you are also investigating what the written and unwritten rules of the labor market actually entails.

Stage 3: I know what my values / qualities / characteristics are.
How well do you really know yourself? Self-knowledge can help you at all times in the career orientation process. This will help you to formulate better and with certain amount of self-confidence what you are good at and also to verbalize about your challenges. You also learn to reflect what is really important in work, which helps during the search for organizations and functions. In addition, this step supports you in articulating in letter and/or word why you are so enthusiastic about this particular company. And enthusiasm always has a positive effect! There is a good chance that an employer is subsequently asking for more information.
Stage 4: I research the labor market with an open mind.
You can of course zoom in on your potential dream job. However, you might be overlooking something that might suit you well and that would be a shame. Take the time to research what the labor market has to offer for someone with your background. Maybe you want to do research and you find out that this is not only possible at the university, but also at civil society organizations, large multinationals and consultancy firms. Consider researching and discovering possibilities that you were not aware off at first. It is important to do this with an open mind and with curiosity. Eliminating (possible) options can be done in the following steps in the career orientation process.
Stage 5: I research and compare my options.
You have now discovered a lot of new information. Both about yourself and about opportunities on the labor market. In this step you combine that knowledge. You select what matches between the labor market and your values, qualities, knowledge and skills. In this way, all collected information is clustered, which may result in different scenarios that you can use for the next steps.
Stage 6: I make a decision.
You decide that certain industries / themes / type of organizations / type of work suit you better than other options. At these selected organizations (within your chosen sectors) you look for opportunities and make a selection of concrete actions.
Stage 7: I make sure my action plan will be executed.
This is where it really becomes concrete. You are going to talk (network) with someone from a company, you write an (open) application, you prepare for a job interview or an assessment.