Leiden University Career Zone


Study (re) choice
Do you have doubts about your choice of study? Are you considering changing studies?
You can discuss your doubts with your study advisor or with a study advisor from the Career Service.
On this page you will find more information on how to get started with your choice.
Study advisor
Always discuss your doubts first with the study advisor of your programme! Perhaps your doubts have less to do with your choice than with your study approach or certain circumstances within or outside your programme.

Study choice advisor Career Service
The study choice advisor of your faculty Career Service can help you with your study (re)choice questions. Together you will discuss your current study choice and, if necessary, how you can orient yourself towards a new study. Together with the study choice advisor, you will map out your doubts and situation and go deeper into your study (re)choice.
Study (re)choice consultation
During a (re)choice consultation, various topics may come up for discussion, such as
How your studies are progressing at the moment, in order to clarify whether your doubts have to do with your choice of study or with your approach to the study, the degree of difficulty or other circumstances.
How you have oriented yourself before and how that has led to a choice.
Uncertainty and fear of making the 'wrong' choice again.
How to make a good/new choice.
The steps in the study choice process: orientation, exploration, deepening, decision. Where do you stand and what do you still need?
Discussing (study choice) test results.
Plan of approach.
The result may also be that you are in the right place at your current study. In any case, you have re-examined your choice of study.
Making choices is part of life. In everything you do, you make bigger or smaller choices and from one choice/decision you go on to the next. Three aspects recur in a selection process: making a choice, experiencing a choice and reflecting on the choice.
When making a choice (of study), having first studied yourself (interests, competencies, characteristics, values etc.), it is actually about
Exploring the options: the phase in which you investigate the possible options (in this case study programmes) in breadth and depth;
Commitment to a choice (made): at a certain moment you come to a decision, a choice, to which you commit yourself. For example, you choose to study Psychology, and you go for it.
Once you have chosen, you go:
Experience and reflect: you actually only know for sure whether you're in the right place once you've made your choice. Only then will you experience what it is like to study, reflect on it and conclude whether this was the right choice. If it feels right, you stick with your choice or you decide to make another choice (choose a new study programme). And then the choice circle starts all over again.
(Source: A life-long choice, Evelyne Meens, 2020)
Study choice doubts (reflection on motivation)
So it's not so strange if you start having doubts about your choice of study. If part of making a choice, namely experiencing what it is like, only comes when you have already started your study, there is a chance that it is not (quite) the study that suits you.

It would, of course, be great if, in addition to properly researching various interesting study programmes, there was also an opportunity to experience the study programme to some extent before making a final choice. This considerably increases the chance that you will choose a study programme that suits you and with which you can identify.
Universities/programmes often offer (online) trial study activities to accommodate this to some extent.
Besides experiencing a study, there are ways to structure your search process so that you increase your chances of making a suitable choice. For this, see the section 'Looking for a new study programme'.

Motivation
If you notice that you are no longer very motivated for your studies, that your studies are not going well, that you do not feel comfortable, it is important to reflect on this. What is it exactly that affects your motivation? This can be due to various things.
For example, it could be that you are not as interested (intrinsically motivated) in the subject of your study as you initially thought. Or it could be that you enjoy the work you will be doing after your studies, but that the road to get there is too long.
Sometimes the reason for your choice comes from things outside of you, which sometimes feel more like a 'must'. For example, if those around you think it's important to choose this study and you want to make them proud.
People perform and feel best when they make choices that are in line with their interests, values and goals. That you do activities and make choices that really interest you, in which motives and motivation are important elements.
Another factor that can play a role in good or less good motivation is the extent to which
you feel comfortable in a new environment
you feel connected with fellow students
you feel that you can manage your studies.
If you have the impression that it has more to do with these last aspects than with the actual interest in your study, try to make some adjustments/improvements. Especially ask for help if you don't know how to handle this. Chances are good that you will be able to continue your studies in a good way. Try to clarify for yourself which form(s) of motivation played a role in your current choice of study.

If you want to investigate whether you are on the right track with the choices you have made, or are in the process of making them, ask yourself the following questions:
What activities do I find interesting and fun to do?
What activities do I find important to do (values)?
What activities do I do/want to do that contribute to achieving my personal goals?
What activities do I do that make me feel not guilty, or make me feel proud?
What activities do I do that provide rewards or avoid punishment?
Which activities do I do that give me no reason to do them?
(Source: Studiekeuzeopmaat).
Quitting your studies and looking for a new one can feel very unpleasant. You can start all over again, while you had just begun a new phase. You may feel sad, restless and uncertain about what to do next. There may be an empty period in front of you before the new academic year begins, and how are you going to fill it? Take some time to process all this and to regain your energy to take the next step, i.e. orienting yourself towards a new study.
In any case, the advantage of choosing again is that you already know how 'it works'. You have been involved in the choice process before and you already have experience with studying, with the nice and less nice aspects of it. That makes it easier for you to get a better idea of a new study programme.
Start by asking yourself the following questions:
How did you arrive at your current choice of study?
Ask yourself how and why you came to your present educational choice. Describe this to yourself in as much detail as possible (e.g. with whom you talked about it, whether you went to the information days).
What expectations did you have beforehand that you were looking forward to and what of these expectations did you find in your current study programme?
What factors influenced your study choice doubts? (see also: Study choice doubts: reflection on motivation)
What were the expectations of the study and what was it like in practice?
What are the positive aspects of your current study? Which elements would you like to see in a next study?
What kind of environment would you like to study in? And which type of education suits you best?
Are there any important factors to take into account when choosing a course of study?
Also delve into: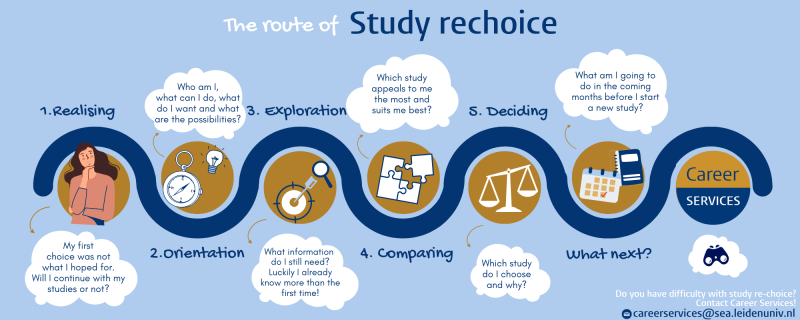 Start here with the Step-by-step plan Study (re) choice!
Also check out the video we made for prospective students (choosing for the first time).
Working documents
Working documents
Study choice tips

Study choice tips!
Career Services ENG